Technology that is a starting point for eTrust and that develops the future and its succession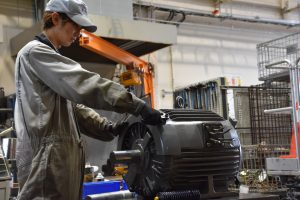 In the industrial equipment domain that we have been involved in ever since the foundation of the company, we maintain and repair industrial motors and inverters. A true strength of eTRUST lies in its succession of unique know-how that has come to an end at many manufacturers such as a echnique to manually wind coils using special patterns. We have received numerous requests for repairs from various companies and municipalities that depend
on these very techniques. At the same time, these techniques are a starting point of many of the businesses we are currently engaged in. Even for the new business of renewable energy, we can repair and maintain generators as the core as a result of improving and handing down technologies of industrial equipment within the company over many years.